Salix Group – a business area within the Volati Group.
Volati is a Swedish industrial group organised in two business areas: Salix Group and Industry. You will find Volati's financial reports, press releases, financial calendar, share data, IR contact and more here.
Financial development.
Within Salix Group, the overall goal is to create sustainable and genuine value growth over time, partly through organic growth within our operations but also through acquisitions.
EBITA 2019 including IFRS16*
---
Summary of 2021.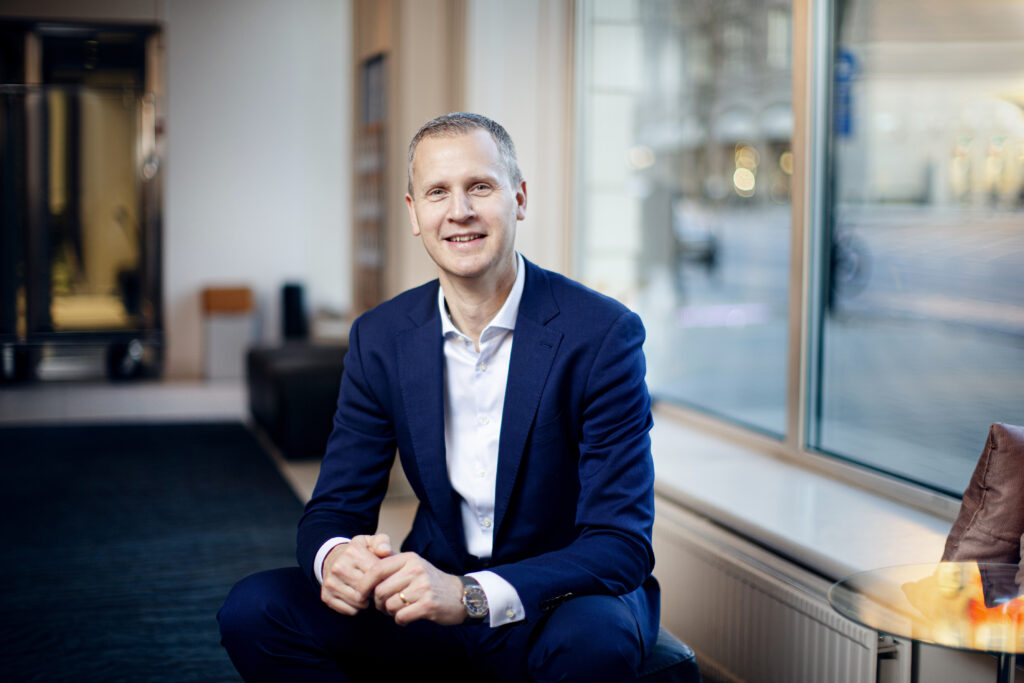 Interview with Martin Hansson – new CEO of Salix Group.
You took over as CEO in September. What image do you have of Salix Group after this first period?
Salix Group is a group with a strong history of growth and high ambitions for the future. In 2021, it was decided that Salix Group would become a more autonomous business area within Volati – with its own name, its own Group Board and expanded mandates. This has created very positive drive throughout the organisation as we continue the growth journey. We are building on a clear position of strength, with well-managed businesses and market-leading brands. I would like to take this opportunity to thank my predecessor Håkan Karlström and his management team for taking the business to the strong market position that characterises Salix Group today.
I bring with me experience from successful growth companies focused on internationalisation, and I hope to contribute positively to Salix Group's continued growth. We continue to build an increasingly strong position in the Nordic region and have several brands with the capacity for geographic expansion. This is just one example of our exciting opportunities to develop the business in the long term.
How would you sum up 2021 for Salix Group?
It has been an eventful and successful year with positive momentum in the market. We also delivered a strong result, with EBITA growth of 24 percent. We have benefited from the stay-at-home trend and increased interest in renovating homes, building patios and doing up gardens. This has created a good basis for growth for our customers and ourselves. Towards the end of the year, we have also seen the professional market gain momentum, with stronger demand from these customers. The entire organisation has worked extremely hard to meet the high demand, while being challenged by both extended lead times and higher prices for raw materials and freight. I would like to thank all our employees for their fantastic work in ensuring deliveries and a high level of service to our customers in these challenging conditions.
How does your new organisation contribute to the continued growth journey?
Since 1 January 2022, we have organised our operations into five business units, placing customers and business very clearly at the centre. In each business unit, we bring together businesses that can benefit from common synergies to further strengthen their competitiveness. Our ambition is clear – to build on the strengths we have and create ever stronger synergies to ensure good organic growth for Salix Group. One example of a strategically important area for synergies is purchasing and logistics, where we can both reduce costs and increase the level of service to customers. Another area is sales synergies. Together, our businesses have an immensely good customer network in the Nordic region. By adding new products and brands to those customer relationships, there is attractive potential to drive sales growth.
How do you work to create value through acquisitions?
Acquisitions are a key part of our growth strategy and a high priority for all business units. We are a strongly industrial buyer in acquisitions. This means that the acquisitions create clear synergies for us, which is important for our long-term value creation. The acquisition of Duschprodukter during the year is a good example. This is an established supplier of bathroom products in the Nordic and Baltic markets. The acquisition, which was an add-on acquisition for Habo Gruppen, strengthens our market position in bathrooms through the two quality brands Duschy and Arrow. It also gives us a stronger presence in the Baltic region, which among other things enables a faster geographical expansion of Habo's existing range. Similarly, the acquired companies benefit from synergies that make them more competitive as a part of Salix Group.
Our strategy for add-on acquisitions is to build on the areas in which we are strong today. However, this is not an exclusive strategy; we are also curious about acquisition opportunities in attractive related areas.
You are always welcome to contact Salix Group via info@salixgroup.se for more information.